2 in1 Apple Charging Station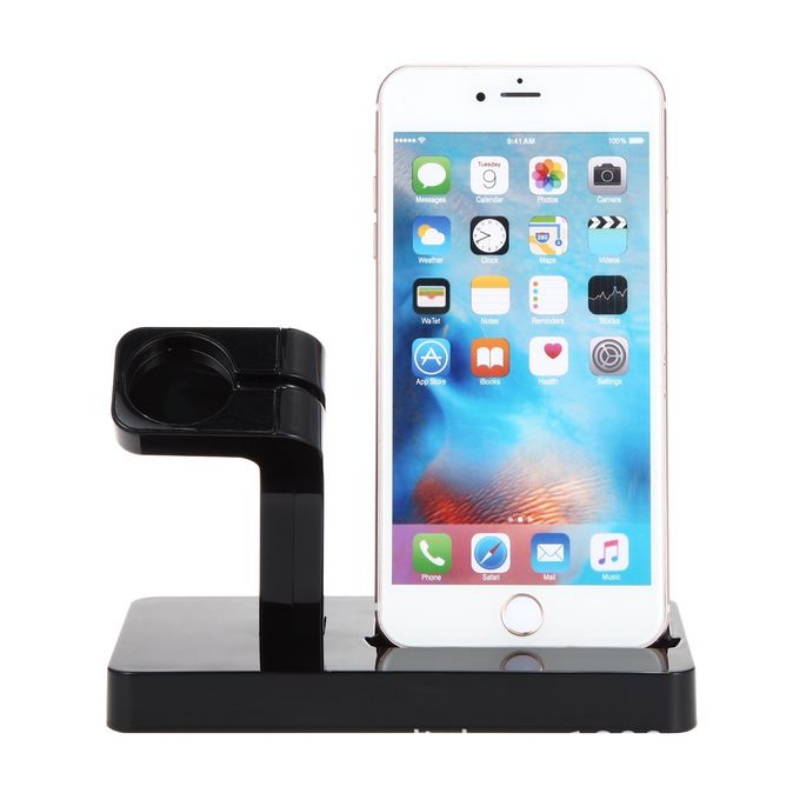 ✓FAST & SAFE CHARGING: Can provide max 2.4A output for fast charging. And it is built in multiple safeguards to protect your devices from over temperature, over charge, over voltage and short circuit.
✓WATCH HOLDER COMPATIBLE MODEL: For Apple Watch Series 6 / 5 / 4 / 3 / 2 / 1 / SE

✓CHARGING BASE COMPATIBLE MODEL: For Apple iPhone 12 Pro Max, 12 Pro, 12, 12 mini, 11 Pro Max, 11 Pro, 11, XS Max, XS, XR, X, 8, 8 Plus, 7, 7 Plus, 6s Plus, 6s, 6 Plus, 6, SE, 5s, 5c, 5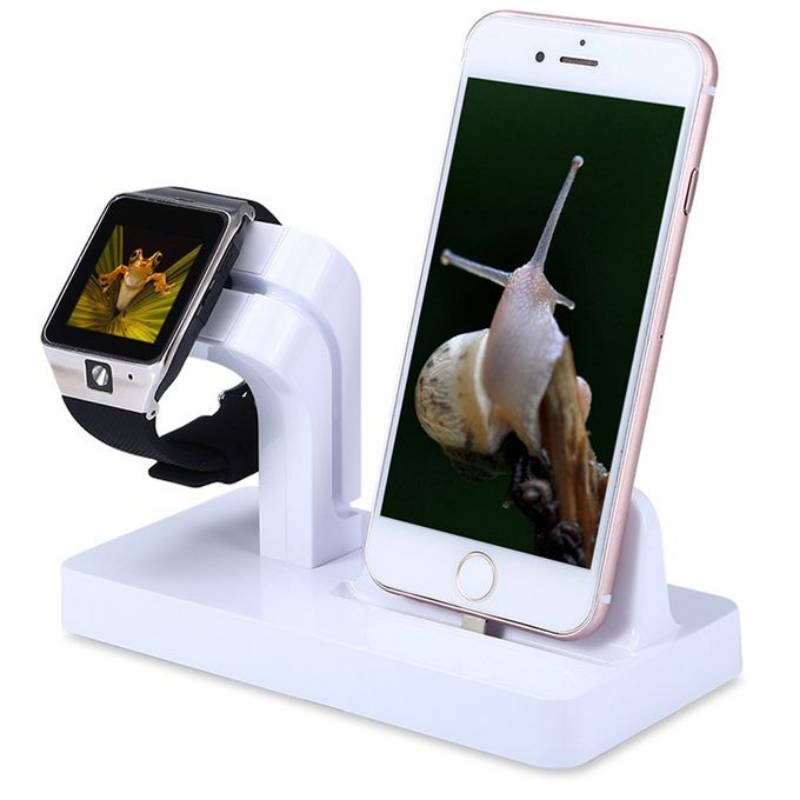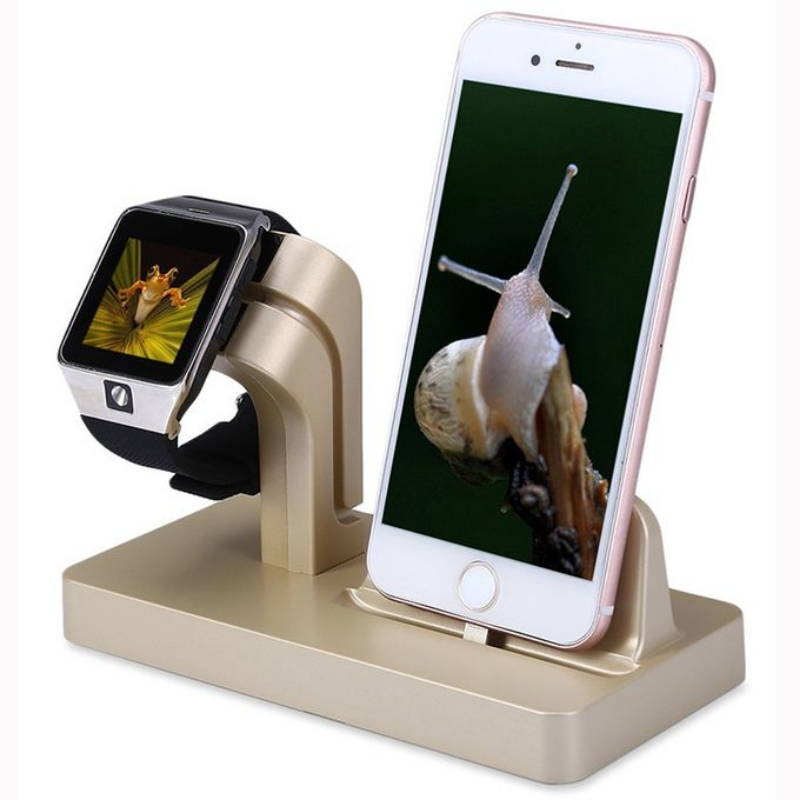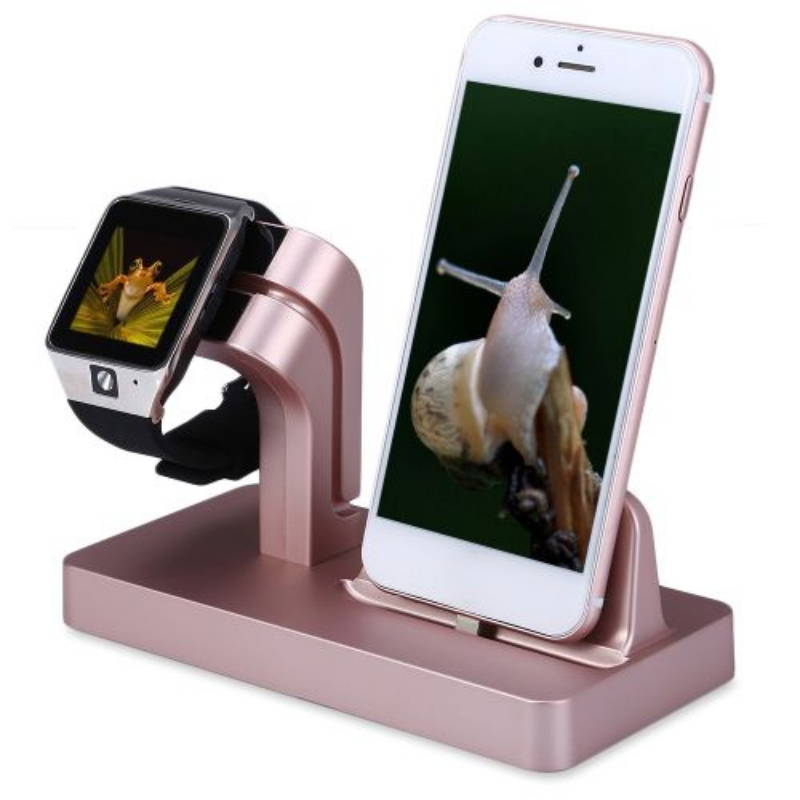 100% No Risk. Money Back Guaranteed.



1 x 2 IN1 APPLE CHARGING STATION
1 x Instructional Manual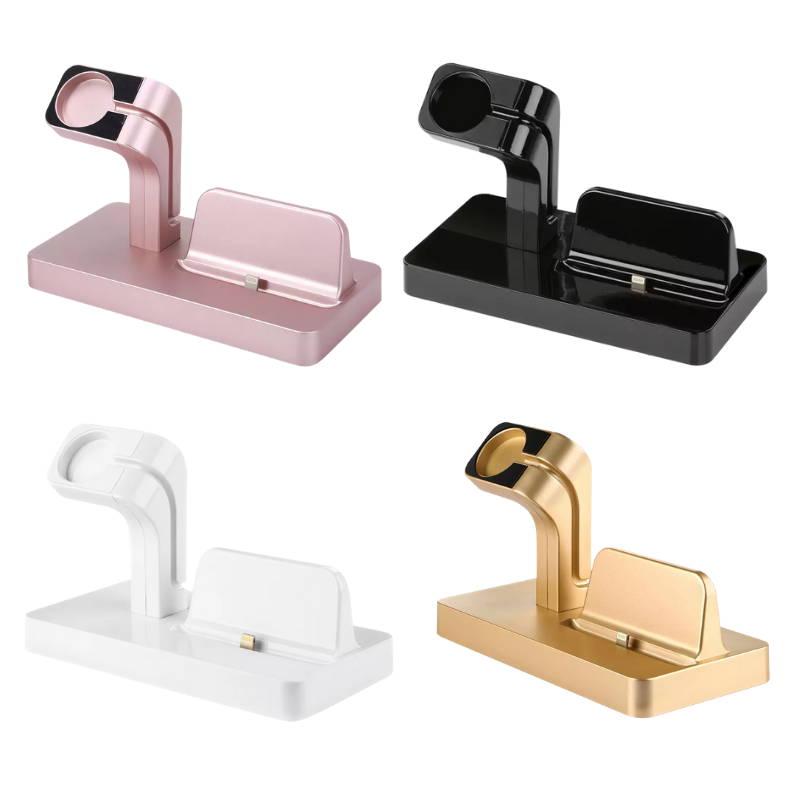 Anti-slip Silicone Protection For Apple watch
Fully protect your Apple watch and its magnetic charger from scratches. Unique "cable disappeared" design, well organized and hide apple watch charger cable for a better looking.
Besides, at the bottom of the charging stand comes with 6pcs silicone pads to keep it stay steadily in place.
Compatible for all series of apple watch. Apple Watch Series 6/SE/5/4 (40mm and 44mm), 3/2/1(38mm and 42mm). Fit all kinds of watch bands with Metal material.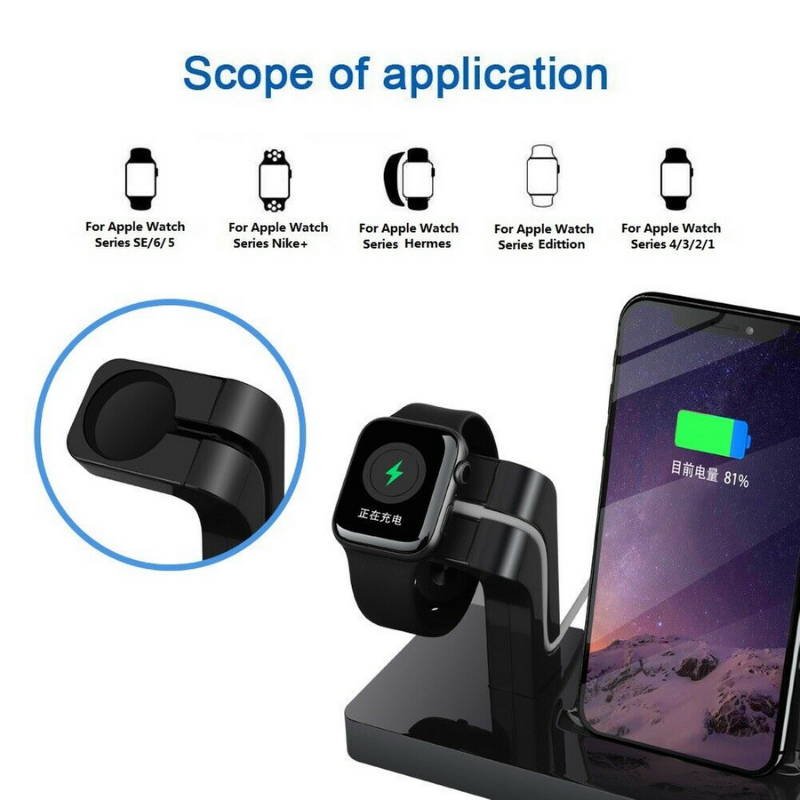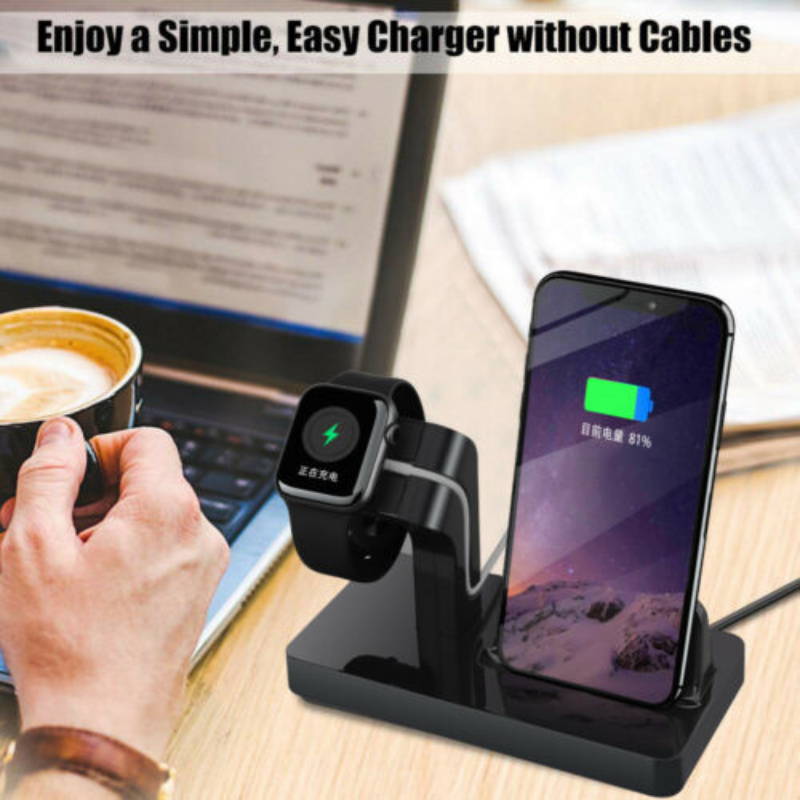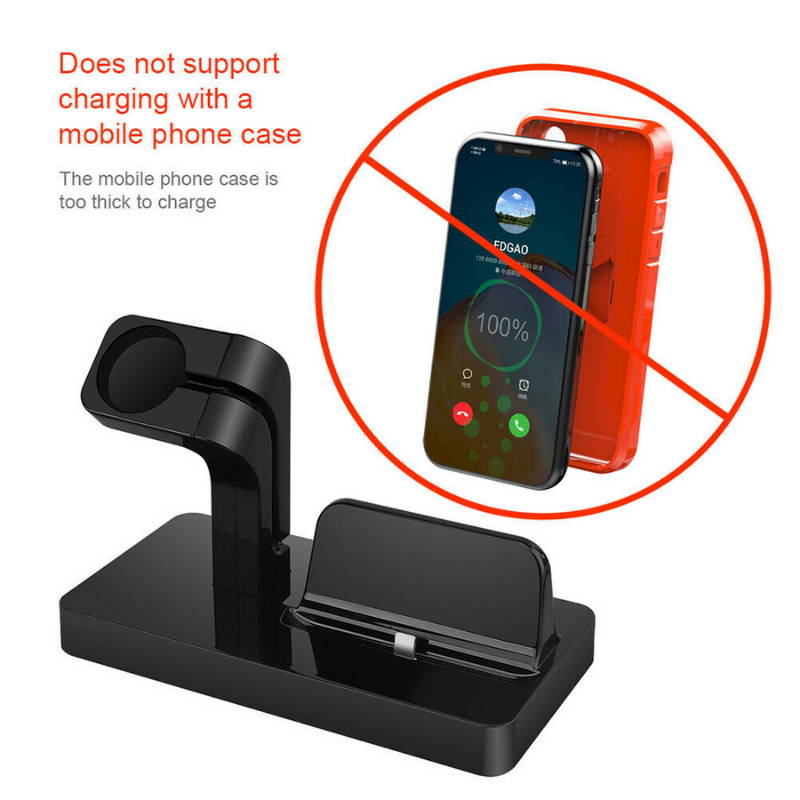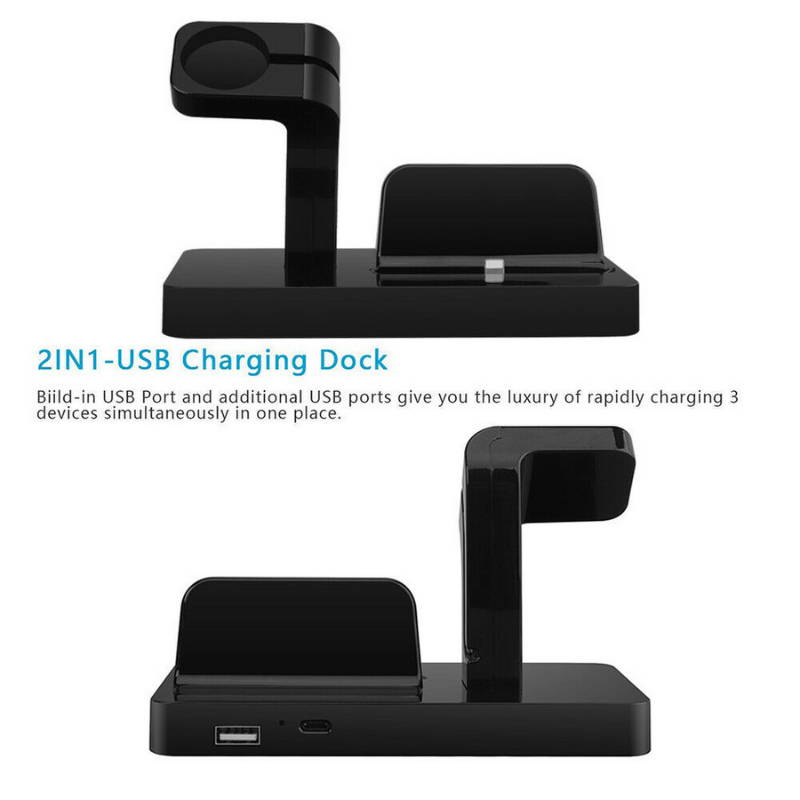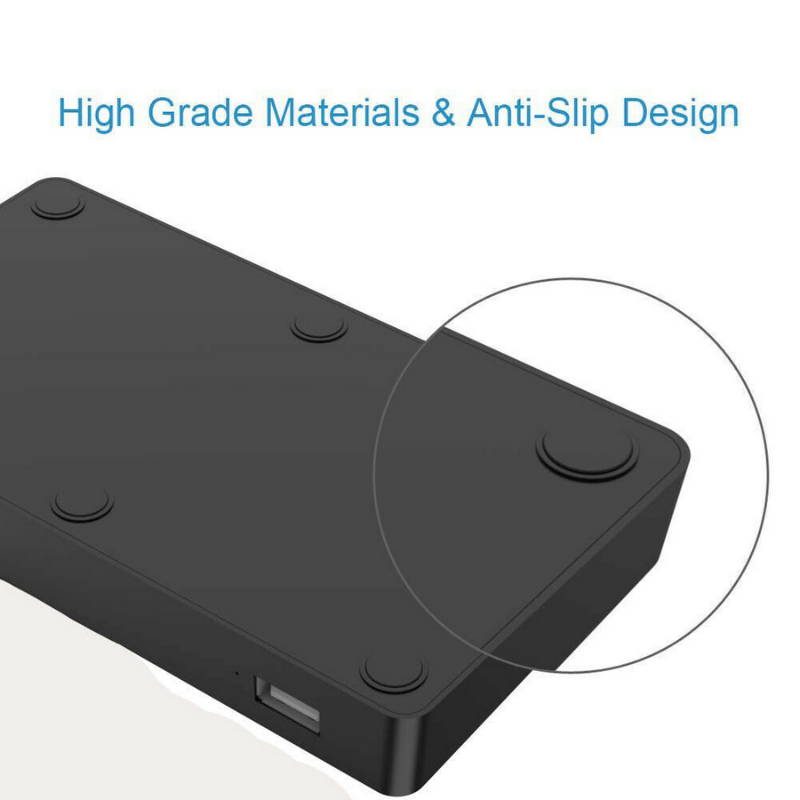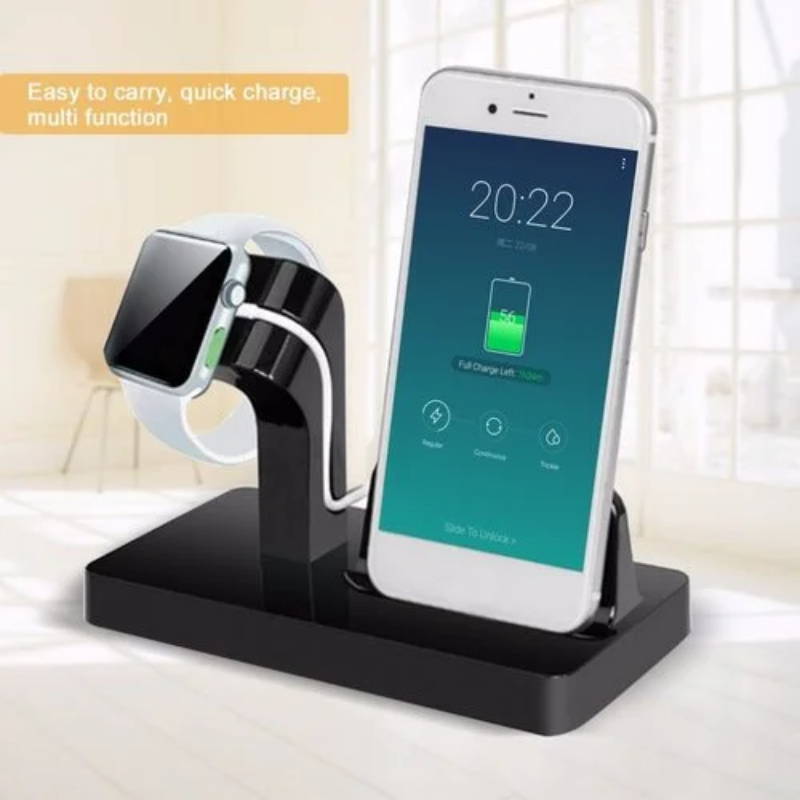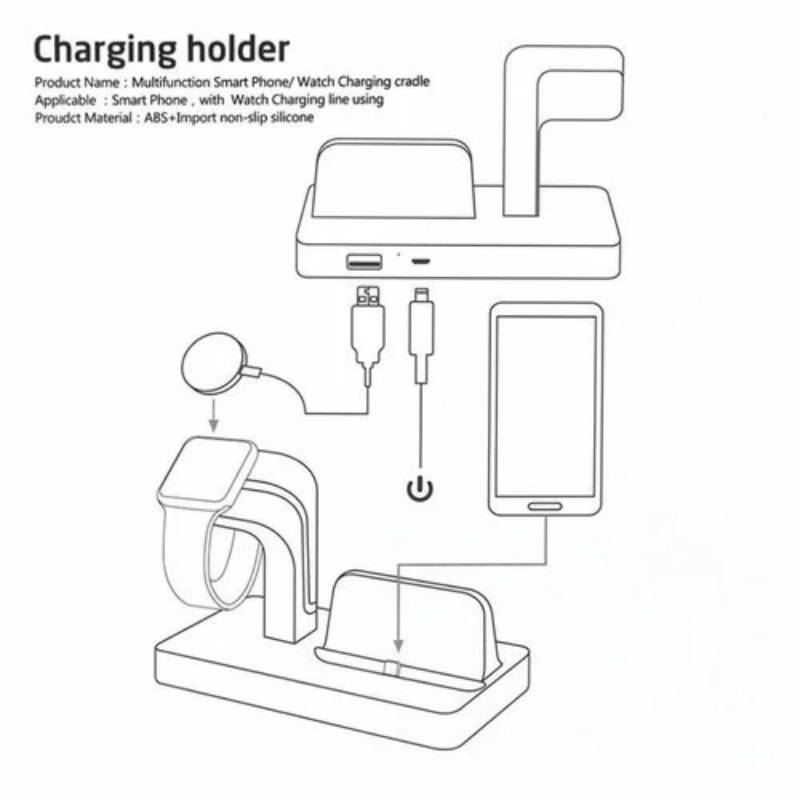 Every Apple Watch and iPhone owner must have such a charging dock! It's really handy to keep a rack on your bedside table, for example, and put your dear Apples next to it to charge for the night. Think of this on your desktop, then already have co-workers jealous of how systematic Apple Man is! The charging dock is sweetly shaped, so the screens on both of your devices point straight ahead and are easily detachable from the stand. Applemies are nothing without such a rack!
Hiding and well-organizing endless cables. Charging with a neat and elegant manner. Perfectly avoid the charging cable knotting and twining. Patented silicone tray steadily holds iWatch 45 Degree with Nightstand Mode for time viewing or alarm while prevented from falling off or scratching. Works perfectly as apple watch charging nightstand or office stand for your Apple Watch and iPhone.
Showcases your device for sturdy, hands-free interaction like Face Time or Skype, Compatible with Phone with different slim cases. "Innovative design" allows the phone to be placed horizontally without scratching the edge of the phone or blocking the contents on the screen, especially when using a full-screen phone.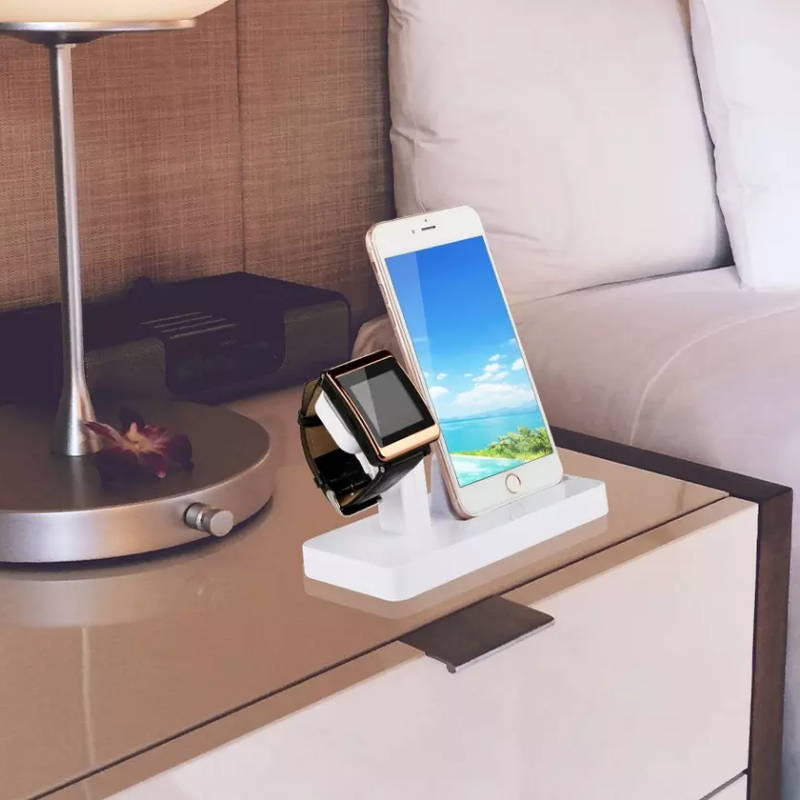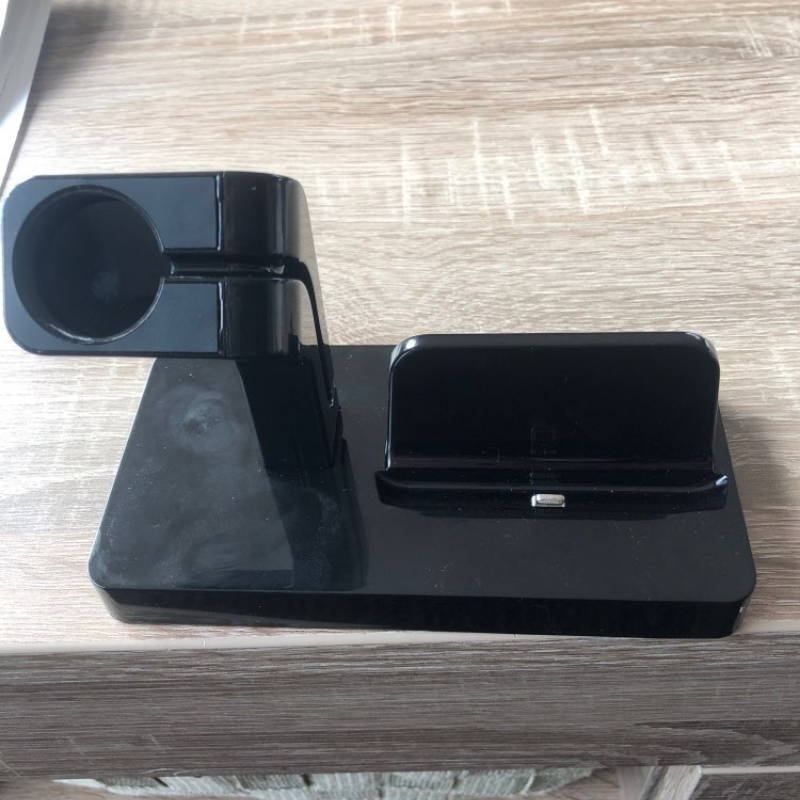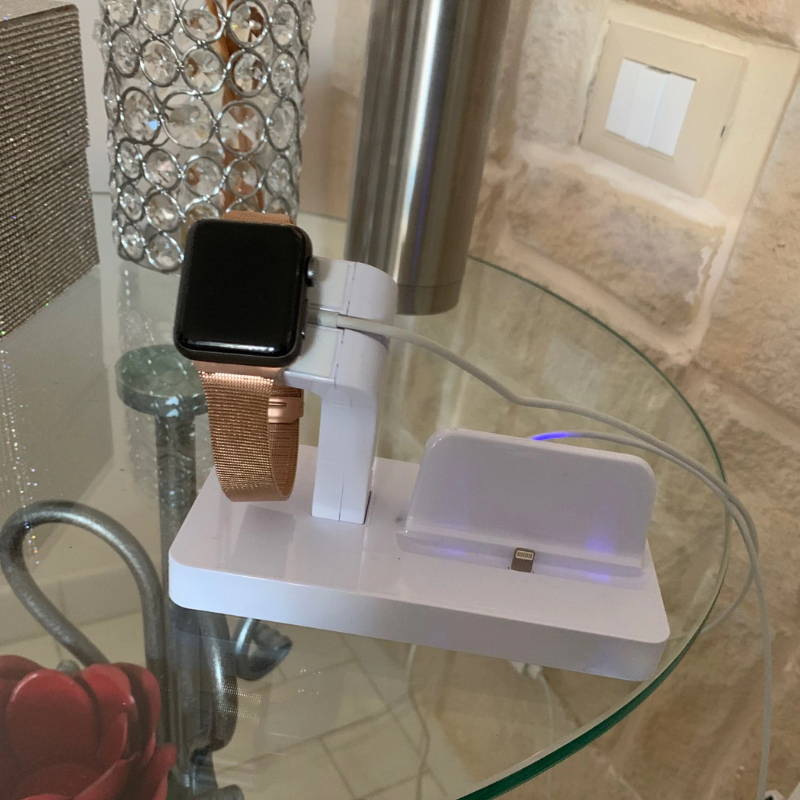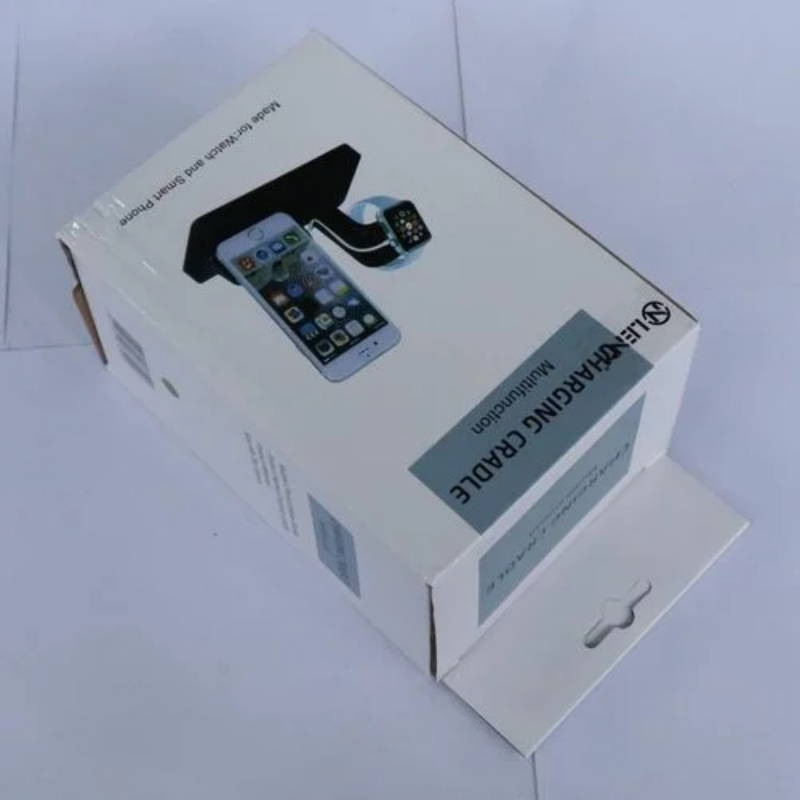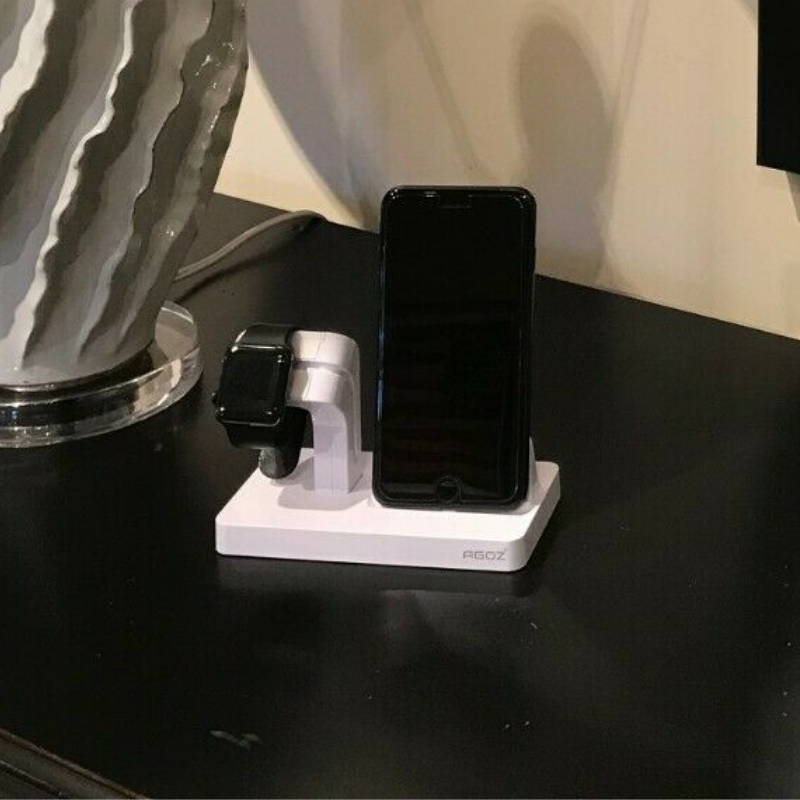 Your Questions, Answered.
Still have questions? email us at support@onitronics.com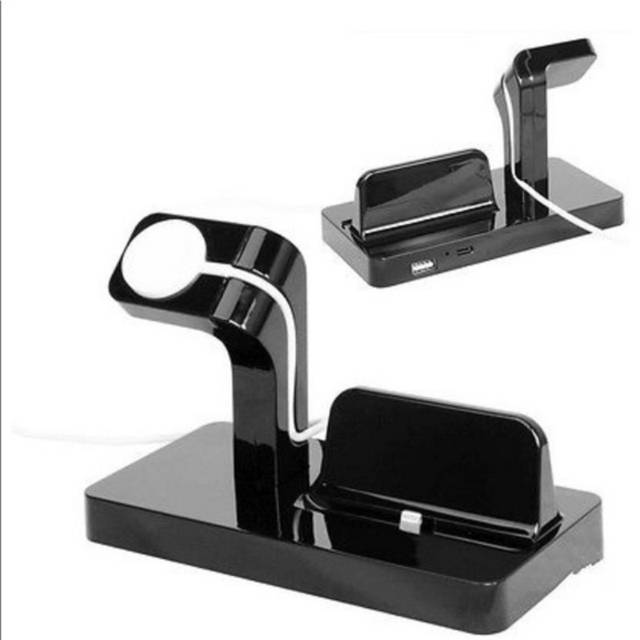 Is it difficult to install my apple watch charging dock?
No. It's really easy to install.
Will this still be compatible with the new iPhone 12?
Can I charge my iPhone with a case?
Yes, This 2 in 1 charging stand can fit for iPhone with different thickness of cases but these cases should be less than 5mm
Is it wireless station? Or a stand?
No, it's not a wireless charging station. You need to assemble your own charging cables. But it can help you to organize those cables.
What kind of charger should I get for this stand and apple products?
This charging stand is designed for the original Apple charging cables and watch charger, So you can use the original Apple charging cables and the chargers. If you have any other questions.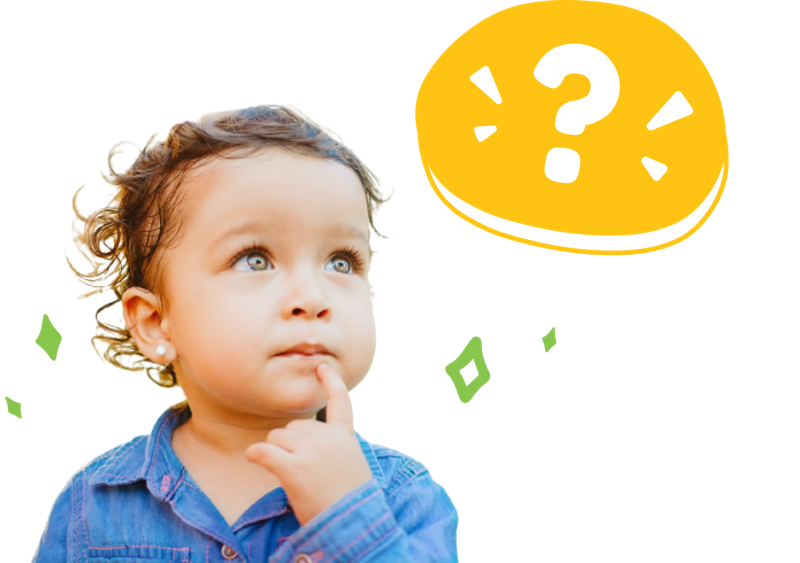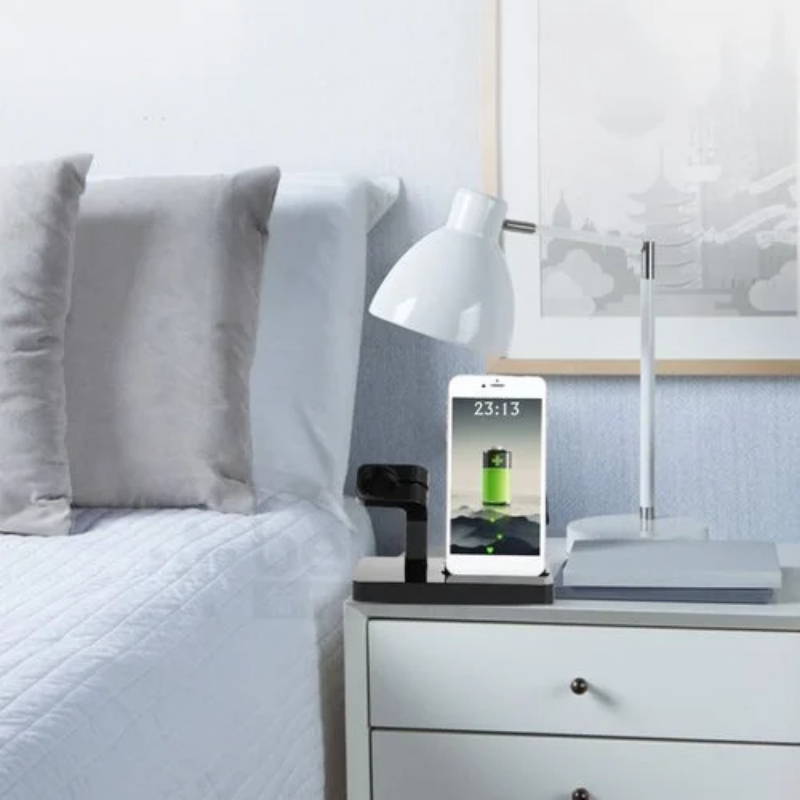 " Love this charging stand! Finally, something that makes sense in charging the Apple Watch! Everything is nice and organized looking; and, since I bought the rose pink color, it matches my phone and watch! "
"My two young labs absolutely love this toy. They are rough on toys, so we have to work with them on not trying to destroy a toy the moment it is given to them.

This "flying squirrel" immediately became and continues to be a high value toy, so it is put up and out of the way when not being played with. Lightweight and flexible, but even so, the toy is really durable."

" This product works so well specially when you have a lot of apple products and all of them need to charge at the same time! Also it comes with two chargers which are great for your Smart Watch and iPhone! "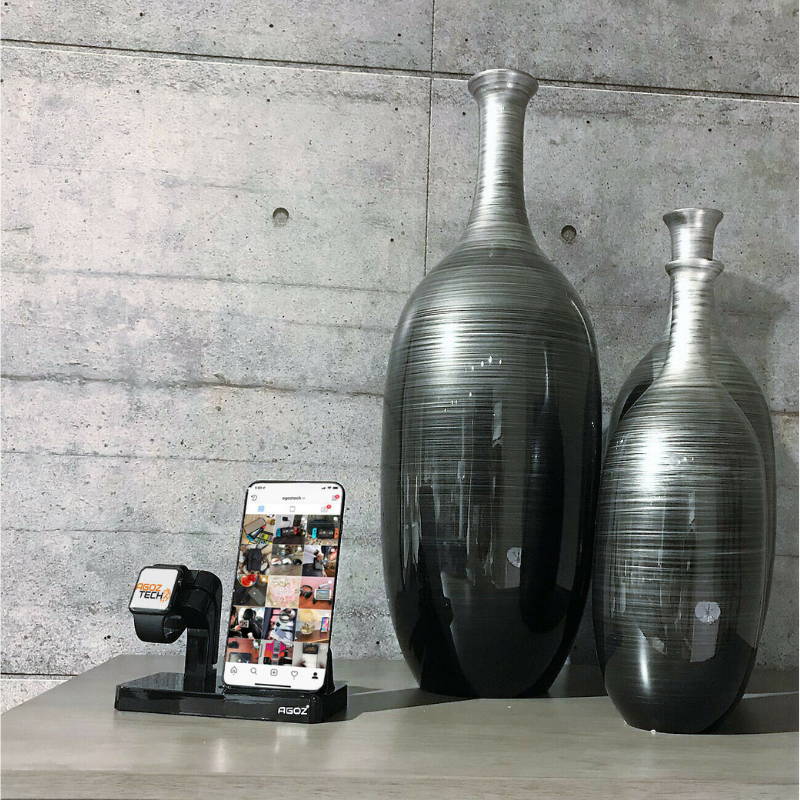 FREQUENTLY BOUGHT TOGETHER